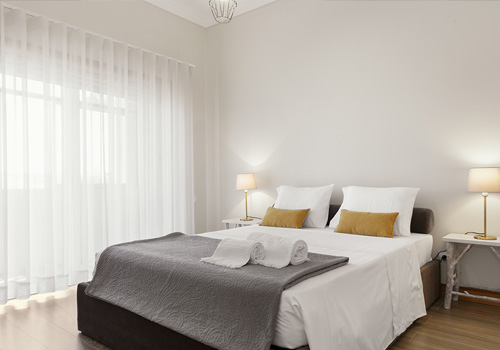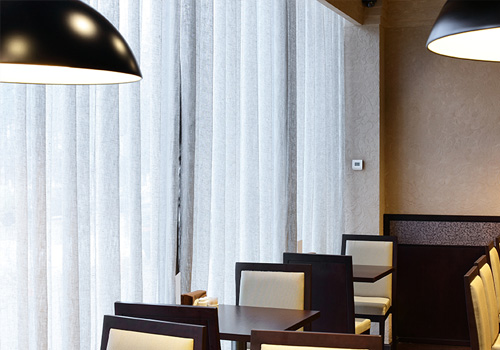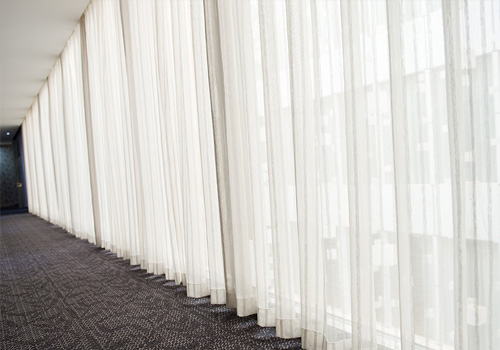 Inherently

flame retardant fabrics for:
SUPERIOR PERFORMANCE

The structure of the polymer has been altered to be permanently non-flammable

PEACE OF MIND

The technical demands of the project have been met, certified compliant with BS 5867 Pt. 2 Type C/IMO FTP Code 2010 Pt. 7 and can therefore be washed any number of times at very high temperatures and the IFR sheer fabrics will remain as effective as they were on day 1

GREATER LONG TERM VALUE

The IFR Properties of our fabrics never become worn or get washed out
Hospitality
Pavilion IFR sheer fabrics are for use in branded hotels, boutique hotels and guest houses.
We maintain high stock levels of our popular IFR sheer fabrics and offer bespoke weaving/dying for larger projects subject to leadtime and minimum quantities.
Housing
Local Authorities, Housing Associations, MOD Properties, high end residential market and the Private Rental Sector can use Pavilion Inherently FR sheer fabric with confidence.
Landlords can be reassured their IFR sheers conform to BS 5867 Pt. 2 Type C and that confidence cannot be washed out by their tenants.
Entertainment
Many colours of Pavilion Inherently FR sheers are available especially for use in restaurants, casinos, bars, clubs, retail and other public spaces.
Select a colour to enhance the mood of your establishment and to help create the right ambiance for your customers.
Education
Schools and Colleges can use Pavilion Inherently FR sheers in their faculty buildings and in their student accommodation.
Some of the denser sheers are favoured for ground floor rooms as a greater measure of privacy is provided while plenty of light is let in.
Healthcare Sector
Pavilion Inherently FR sheers conform to the technical demands of the NHS and other care providers.
Our high specification IFR sheers can be washed any number of times at high temperatures whilst maintaining the full protection of BS 5867 Pt. 2 Type C.
Maritime Sector
Pavilion inherently FR Sheers are certified compliant for ocean-going vessels and craft requiring IMO FTP Code 2010 Pt. 7 certification.
Terms & Conditions
The Terms & Conditions for our Contract IFR fabrics are slightly different to the Standard Terms and Conditions
Click HERE to view the IFR fabric Terms and Conditions
Download New Account Application Form
To order our Contract IFR fabircs you will need an account
Click HERE to download the new account form. This will need printing, completing and returning to us